<![if !vml]>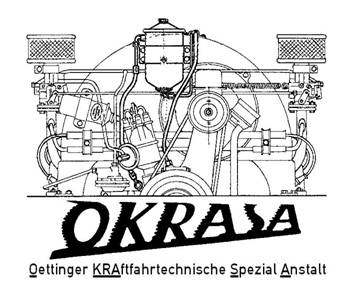 <![endif]>
(Wolfsburg West) OKRASA ENGINE BUILD PROJECT TASK SEQUENCE LIST
Last Update: 9/27/13
Task Sequence (strike through = completed):
Machine 36-hp engine case for second-over (.50) main bearings and connecting rods to standard size bearings at NW Connecting Rods.
Acquire Wolfsburg West's

Okrasa

high-performance kit,

NOS

FRAM canister oil filter set-up and

Abarth

full-flow stainless steel performance muffler.
Acquire new stock-size piston and cylinder set, overhaul gasket set, new set of 8 pushrod tubes, new pushrods and

 

Viton

synthetic rear main seal.
Acquire centrifugal advance distributor for non-vacuum tapped twin

Solex

carburetors from Ed Fall. Ed supplied a restored and re-curved a February '59 date stamped Bosch

VJR

4 BR 8 distributor to fit a (

BTDC

)

7.5°to

24.5°@ 3500 RPM advance curve.
Acquire

stroker

crankshaft, forged,

69.5mm

, 4340 steel alloy, connecting rod and main bearing journals have been nitride hardened to

HV

500, counter weighted and balanced.
Acquire high performance camshaft, 234 degree duration at .040" (or 227 degree duration at .050"), .345" lift, 24 degree overlap.
Acquire reproduction "OT" crank pulley at slightly smaller than stock size.
Acquire 6-volt,

200mm

late

VW

style clutch,

SPG

pattern 8-dowel

hole

flywheel and corresponding "collar" type pressure plate and clutch disc.
Acquire vintage engine main bearing set, .50 (second over) / standard sizing for use of brand-new crankshaft in my old case.
Acquire 5 new main bearing dowel pins, Porsche 356/912 high-performance gland nut and Porsche metal flywheel to crankshaft seal, 3 Porsche camshaft hex bolts with lock plates and 3 Porsche camshaft dowel pins.
Use Wolfsburg

Motorwerks

shop press to remove timing gear, spacer, distributor gear, oil slinger

,Woodruff

keys and C-clip from old 36-hp crankshaft.
Acquire "0" size 912 camshaft gear.
Acquire standard-size pushrod bearings.
Test install 912 cam timing gear on

Okrasa

camshaft.
Acquire new high-flow oil pump.
Modify and test fit engine cylinder cooling tins to work with

Okrasa

dual-port heads.
Test install manifolds and dual

Solex

carburetors, fan housing, fuel lines and throttle linkage

 

in preparation for modification of fan housing to accommodate welded-on throttle linkage

bellcrank

and captive nuts for FRAM oil filter canister & relocate coil mount.
Acquire new aluminum oil cooler.
Weld

throttle

linkage

bellcrank

onto fan shroud after final test fitting.
Acquire necessary fittings and lines for use of FRAM canister oil filter.
Install main bearing, timing gear, spacer, distributor drive gear and c-clip on crankshaft, then install in engine case.
Install cam into engine case and test cam timing gear clearance, swap out until finding one that meshes correctly.
Test fit and clearance connecting rods by removing material from rod caps until all interference issues are resolved.
Match material removal on all 4 connecting rod caps as

closly

as possible.
Run parts to Action

Autoparts

: Machine Shop for machining; flywheel and clutch assembly for balance and roll-pinning the pressure plate to the flywheel , install dowel pins to permanently mate

Okrasa

camshaft with 912 timing gear & balance 4 connecting rods
Install distributor drive and distributor in left engine case, clocked at #1

TDC

.
 

Upon return from connecting rod balancing, perform final assembly of the bottom end with crank at #1

TDC

to sync with distributor and install cylinder studs.
Test-fit pistons and cylinders, determine barrel shimming requirements to

attain ?

to

1 compression ratio.
Order necessary size barrel shims from Wolfsburg West.
Modify and install push rods using shims provided from Wolfsburg West.
Upon receipt of barrel shims from Wolfsburg West, test fit, verify compression ratio calculations and if

 

OK, perform final installation of pistons, cylinders, cylinder heads with new pushrod tubes and seals.

 

If not reorder correct size from Wolfsburg West.
Modify and test fit engine cylinder cooling tins to lengthen sheet metal

 

to accommodate additional barrel shim width if necessary.
Once satisfied with engine cooling tin modifications, deliver all pieces to Seattle Powder Coating for a coat of semi-gloss black.
Rebuild original fuel pump and install with fuel pump spacer.
Install new oil pump with original pump cover modified to allow for thicker oil pump.
Install new aluminum oil cooler.
Test fit

Abarth

full-flow stainless steel muffler and modify as necessary to align flanges with modified shimmed head port locations.
Upon return of the cooling tins from powder coating, attach to engine, install FRAM oil filter, oil lines, carburetor linkage.
Install new oil strainer and sum plate, oil filler baffle, oil filler seal and oil filler to case.
Install seal at top of generator stand and install generator/fan assembly.
Install complete exhaust system.
Install spark plug wire conduit tube with wires fed through, clamp to

Okrasa

cross-over tube with stock clamps, install spark plugs,

secure

all the connections.
Install flywheel and shim for correct end play, once correct, install new gland nut and torque to 400 foot lbs, install clutch disc and pressure plate.
Polarize new generator.
Perform 20-minute break-in run on test stand.
Check valve adjustment.
Install new 6-volt starter bushing and new starter in transaxle bell housing.
Install

OKRASA

engine in car, fire up and drive off into the sunset with a huge shit-eating grin on my face!
Press [BACK] key to return to '56 Oval Project Journal