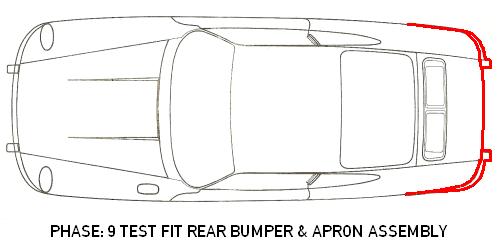 ---
Entry: 6/2/07 - Today's objective was to remove that slightly canted right rear bumper and adjust it so it matches the gaps of the one on the left side and then reinstall everything for a final test fit, including the new "all chrome" reproduction rear bumperettes. I thought about what it would take to bend that right rear bumper bracket and concluded that I needed to use washers to widen the gap between the body and bumper so there was room to bend it higher than normal so it would spring back into the correct position. I found some longer bolts to allow for an extra ¾" stack of washers between the brackets and body. I put blue masking tape around the stacks of washers to make them easier to install and as you can see in the following photograph, everything bolted back into place with the same ¾" off-set.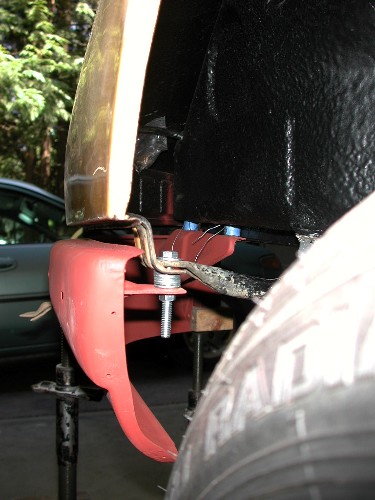 To actually flex the bumper bracket, I once again called upon those handy screw jacks I have found indispensable throughout this restoration. It took some creative usage of wooden blocks to get the jacks to reach the right points but with the two jacks, I was able to create the desired "flexing" pressure and got the bumper bracket to bend while keeping the mounting point for the bumperette parallel to the one on the other side (verified using carpenter string). I used a small piece of leather between the screw jack and the bottom side of the bumper sheetmetal to keep from damaging it.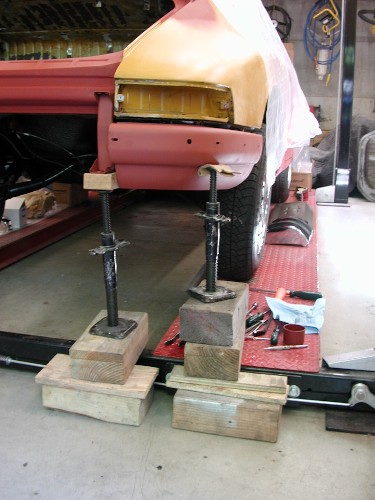 I removed the right bumper and all the extra spacer washers and reassembled it again, this time using those new all-chrome reproduction bumperettes I purchased from Stoddards. It took some "adjustments" with a hammer to get the bumperettes to fit over the brackets but with some patience and persistence, they eventually did. Some careful measurements and final adjustments of the mounting bolts and everything lined-up beautifully. I was so pleased that I dug out the original "PORSCHE" and "912" name plates and grill for a final test fit and photograph. As you can see in the following before and after photos, all that's missing is the bumper deco strips but even without them, it's hard to imagine how it could be improved any more. I am truly getting excited about the car being covered in fresh paint now!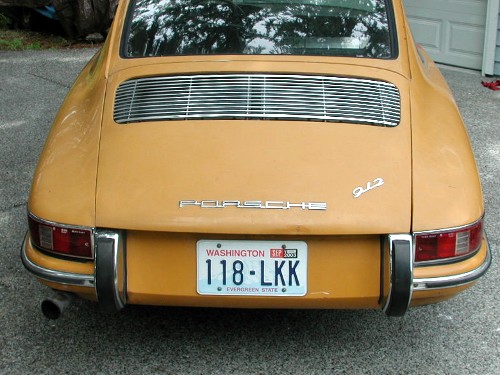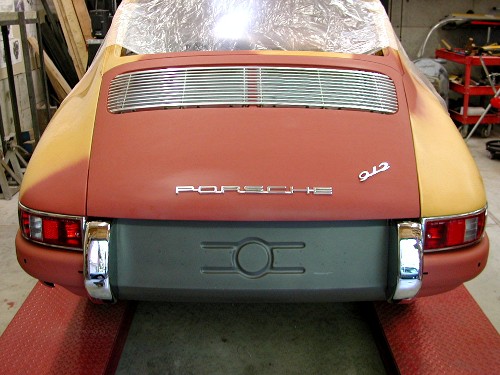 ---