<!

912 Project BEFORE & AFTER PHOTOS (UNDER CONSTRUCTION)
3½ years of progress shown in about 4 seconds...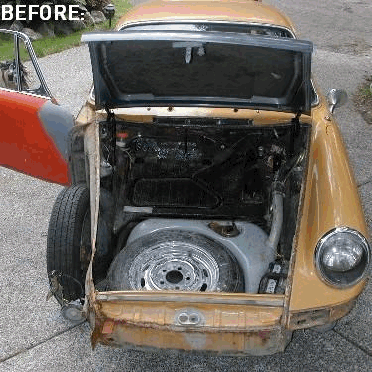 ---
Entry: 7/11/05 - You've got to be wondering what I was thinking when I bought a car with this much rust in it! I looked this car over many times and saw that the rust was only in water pooling areas and not the more insidious type caused by winter road salt. I wanted to try my hand at sheetmetal fabrication, invest in a better MIG welder and teach myself the craft using this car as a learning tool. My basic thoughts were if the bodywork turned out really good (those pictures follow), I would take this restoration to a higher level than just driver. Little did I know that I would eventually challenge myself to learn Super-90 engine rebuilding as well. These are the photographs I took of my 912 the day it was towed home from Ballard. I was using my old 3.4 megapixel Nikon digital camera so the photographs at 1024 x 768 pixels came out somewhat smaller than my current camera. I tried to focus on documenting the areas needing rust or collision repair and show the problems with door gaps and such. The interior of the car was already stripped out so assessment of the rust in the car was easy to do and I was very pleased by the quality of the original chrome, glass, instruments and toolkit. I was looking for a project to develop my sheetmetal fabrication skills with and decide if tackling a 356 Porsche restoration on my own would be a realistic. I love the early 912 and its almost identical materials and finish it shares with the last of the 356C model manufactured in parallel with it in Zuffenhausen at the time. Since then I have found and purchased an extremely well-preserved 1964 Porsche 356C and plan to restore it after finishing this 912.
---
Entry: 3/16/09 - BODYWORK COMPLETE MILESTONE I wanted to capture the fit and finish of my bodywork in extreme detail (warning: huge file size) so I took these photos commemorating the "bodywork complete" milestone of the project. Click on the thumbnails below to see the large photograph, use the zoom feature of your browser to view close-up details. I will be taking a new set of photos once the car is completed that will replicate the views shown in the before photos above.
---
Entry: 12/7/09 - A few fun-to-look-at high-resolution photos of the completed restoration - Click on the thumbnails below to see the large photograph, use the zoom feature of your browser to view close-up details.
---